Welcome to the Dotson Therapy & Associates, LLC Secure Client Area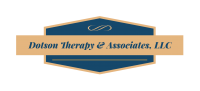 First, I would like to take a moment to applaud you for taking this difficult first step in the change process towards a better, more positive you. Finding the right person to help you make these positive changes can be even more challenging. I am here to be your change facilitator a partner for becoming that person you want to be. If you're looking to meet your potential, deal with a crisis, address relationship issues, addiction, depression, anxiety, self-esteem/image issues and more- I can help. I believe in a client centered approach. This is where we work together to find what works best for you.
You are the expert on you & what works for you! Unconventional or modern approach to therapy: I am offering therapy in three unique & flexible ways. In office sessions, teletherapy (Skype) and/or the option to meet at a setting of your preference (or combination of both). This offers you the flexibility of therapy on your terms, at your location, & to your comfort level.
Currently accepting new clients. I look forward to hearing from you and creating a personalized approach together to achieving your best self!!
Log in to the secure portal. If you have not received an email with a username, please Register.